Mon Amour, Friend or Foe
Mon Amour, Friend or Foe
An adventurous, naive American opts for study at the Sorbonne to pursue the lure of Paris.
Before year end she struggles to reconcile decisions she makes while following an audacious aristocrat into the dark world of the French Resistance in occupied France during World War II.
This post may contain affiliate/referral links. It is a way for the writer and/or owner of this site's content to earn advertising fees by advertising or linking to certain products and/or services.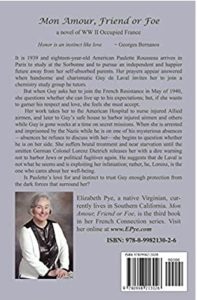 Mon Amour, Friend or Foe, the third volume of The French Connection series by Elizabeth Pye is listed on Amazon and available for purchase.
Get a head start and read Silk or Sugar, Volume I, and Return to Chateau Fleury, Volume II, of The French Connection series.
.
Historical fiction intrigued Elizabeth. She researched extensively and travelled multiple times to France. Her attention to research combined with visits to the place of settings in her books enhance her romance novels and bring them to life.
Interested in writing historical fiction? Take a moment to write Elizabeth a comment or ask her for tips.